IN 2018, INOX DAIDUONG  invested to build the second factory established production systems following the European standards. According to the new European standards systems, DAI DUONG also presents the new products like the stainless steel industrial pipes in grade 304 & the round bar in grade 201/304 which specialize in the diameters in the range of 25mm to 200mm.
THE STAINLESS STEEL INDUSTRIAL PIPES:
DAI DUONG'S Stainless steel industrial pipes are being produced by the European productive system which is managed according to the ISO Standard 9001:2015 and qualifies the standard ASTM A312/A778 belonging to National standard Organization and International ASTM organization- American Society For Testing And Material.
APPLICATIONS:
As the result of the physical characteristics of withstanding high pressure and heat as well as  anti corrosion, DAI DUONG'S Stainless steel industrial pipes can be found so popular in the industries like: mechanical manufacturing, tools used in the petro chemistry  industry, fertilizer factories, pulp industries, drilling rig structures applied in the mill industries, mechanical structures, building structures in factory, sky scraper , heat exchanger etc
TABLE OF STAINLESS STEEL INDUSTRIAL PIPES
ROUND STAINLESS STEEL INDUSTRIAL PIPES:
RECTANGULAR AND SQUARE STAINLESS STEEL INDUSTRIAL PIPES: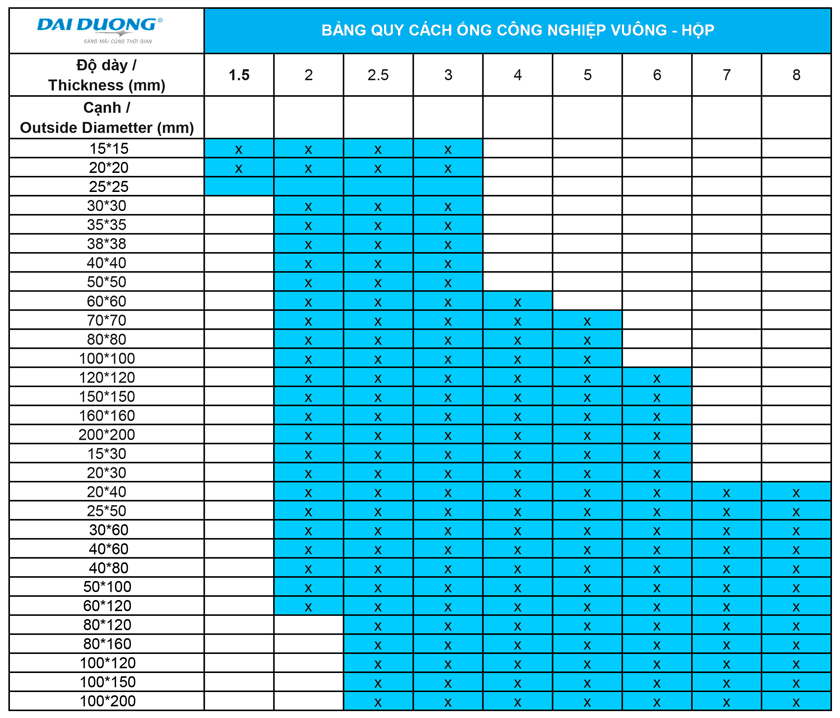 STAINLESS STEEL ROUND BAR:
As the investment for production of round bar with bigger sizes, at the present, these products with grade 201 and 304 can process the diameter up to 200mm.
Applications:
This product is best qualified of the requiring application of tensile strengthen, high stainless remaining, and is also flexible applications for structures, manufacturing as well is cost saving. (Especially, the stainless steel round bar in grade 304)
There're also the other uses of the round bar:
The small size round bar are applied for producing the house appliances such as: clothes hanger, door sneck, internal decoration, concrete basement. And the big sizes ones are found in the shipment building industries ( 304 round bar), mechanical tools manufacturing : valve, bolt, flange, angles or  parts in the hydraulic pumper… and depending on the level of anti corrosion and stainless remaining, the choice of the grade 201 or 304 can be decided. With the requirement of better anti corrosion, shaping, the stainless steel grade 304 is most recommended for the manufacturer.