Import market for pipes now varies from Europe, America to Asia so there will be different measurement standards. Understanding the conversion table of sizes of pipes (stainless steel pipes, steel pipes, plastic …) will help users not to be confused between measurement units. Come on, let's explore Dai Duong In this article offline.
The concept of unit of measurement
If the plastic pipe is measured by external dimensions then the metal pipe is measured with the inner dimensions.
In Vietnam nowadays, there are common measurement units are DN, Inch, Phi. Some pipes have that unit as NPS (Nominal Pipe Size) if the pipe is from North America. But NPS does not seem as popular in Vietnam as the others.
What is DN?
DN is the nominal pipe size, English name is Diametre Nominal. DN is the system according to ISO international quality standards so they are commonly used in many types of pipes such as water pipes, gas piping systems, household drainage systems and buildings.
What is an inch?
The unit used to measure length in North America (USA and Canada). In Vietnam, it is also common to use inches to measure pipe length or thickness of a drain. However, manufacturers will often convert inches to millimeters – a common unit of measurement in Vietnam for ease of work. Inches are denoted by "
You can use this formula to convert inches to millimeters: 1 inch = 25.4mm
Or go to https://www.metric-conversions.org/en/chieu-dai/inch-sang-milimet.htm to look it up correctly.
What is "Phi"?
"Phi" is a nominal outside diameter. If countries from Europe measure pipes by DN, Vietnam often uses "Phi" as the unit of measuring pipe size.
Phi, denoted as Φ (capital letters) and φ (lowercase), in millimeters (mm). In the metric system, millimeters are equivalent to 1/1000.
Formula to convert from inches to millimeters: mm = inches / 0.039370
Wall thickness
Pipe wall thickness (Schedule), the unit of measurement is mm is an index often attached with DN to convert pipe size most accurately. The pipe wall thickness abbreviated on the conversion board is SCH or SCHED. Depending on different standards, SCH has different thickness.
Instructions on how to convert the nominal pipe size to millimeters and inches
Some common mistakes of consumers such as: "DN21 is Φ21" or "Φ21, the outside diameter must be equal to 21mm". However, with different production standards, the actual diameter will also differ. Usually, manufacturers have exact conversion tables for pipe sizes as well as pipe production standards.
To overcome this disastrous confusion, the following pipe size conversion table (corresponding to some common standards such as ASTM, ASME, A106, API 5L, A53, A312 …) will be very helpful for manufacturers as well as consumers:
For pipes with DN6 – DN90 or from 1/8 "- 3½":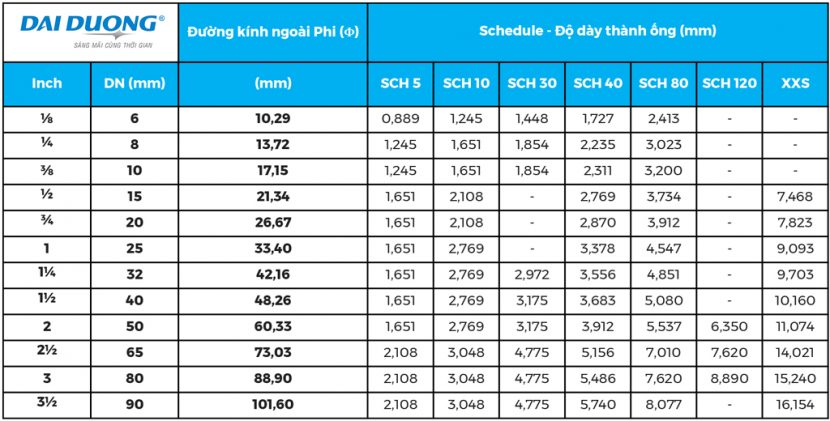 For pipes with DN100 – DN200 or from 4" to 8":

For pipes with DN250 – DN600 or from 10" to 24":
Why is it necessary to know the nominal pipe size conversion
Pipe size conversion table makes it easy for employees of the company to work with the manufacturer thanks to the specific parameters that are popular in the metal pipe market in the country and the world.
The mechanical industry always needs almost absolute millimeter precision because "one inch is wrong, one mile is gone".
To create a product, sometimes it is necessary to combine metal pipes, stainless steel pipes or connections between pipes and pipe fittings. Accurate dimensioning will help manufacturers accurately measure as well as combine pipes / fittings with corresponding thread sizes, minimize errors and minimize waste of production materials.
Source: Stainless Steel Dai Duong
Vietnamese