Today, stainless steel is widely applied not only in the manufacturing industry but also in the interior – exterior. Along with the development of society, the demand for beauty of the house, rooms, garden garden is more and more attention. With its shine, aesthetics and durability, stainless steel is increasingly preferred by designers, interior and exterior works, and households.
For the interior and exterior decoration, the criteria are set and require very strict. Aesthetics, durability, plasticity and shaping, easy machining must be feasible and can be applied varied. Therefore, stainless steel is applied to this sector not only because of its special physics characteristics but also to meet the needs of the art, even to meet the right topic that the designer and the owner expect. want.
Stainless steel used in interior decoration – exterior is very rich in materials such as stainless steel 201, 304, 304L, 316, … Inox also used in this industry is diverse in style such as stainless steel pipe, stainless steel bar, stainless steel, gold-plated stainless steel, stainless steel mirror … or other decorative items are processed from simple to sophisticated. Manufacturers can buy stainless steel sheet slabs, then process them into everyday items or dots with a border pattern by laser cutting or embossing or engraving … to serve the decoration more special. Decoration with stainless steel appliances makes the space more attractive, cool, clean and extremely luxurious. Not only the stainless steel decorations also contribute to highlight other items in the space without overshadowing their own beauty.
One of the applications of stainless steel in interior – exterior
Application for Stainless Steel Cable (Stainless Steel Wire):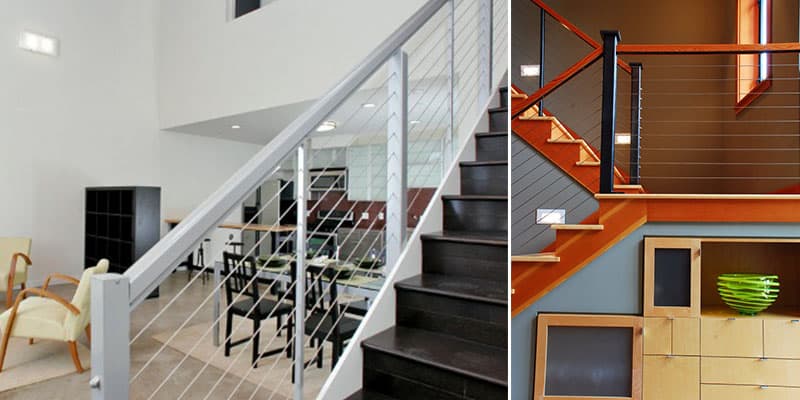 Used in the design of stairs, railing, railing … Stainless steel cable is designed simple but sturdy and safe suitable for the house of modest size, or small campus. Or for the big house but want to create a sense of spacious space and minimalist style. Stainless steel cable brings a unique feel, both simple and strong and hard as the application of the first stainless steel that Stainless steel Ocean refers to.
Stainless steel response to stainless steel stairs
The product is very popular today by the convenience that no less aesthetic. Stairs are stainless steel, easy to clean, and bright thanks to its characteristic color makes the space feel wider. Stainless steel handrail helps to make your home look eye-catching, more prominent when viewed from outside and still ensure high safety and cost savings.
You may not know: Stainless Steel Trend – Stainless steel increase
Application: stainless steel cabinet, stainless steel kitchen counter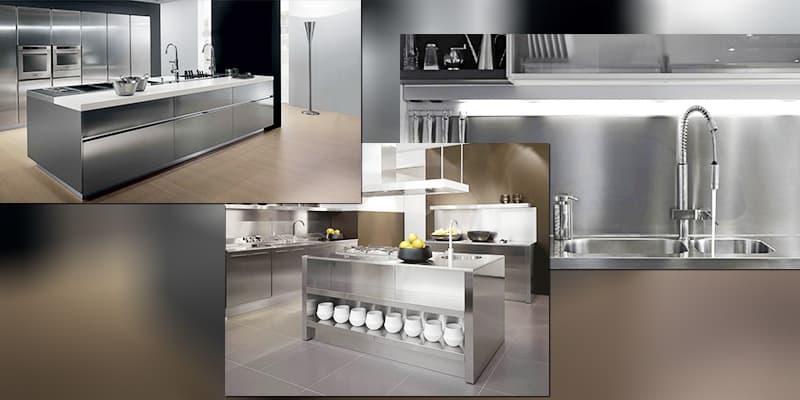 At present, households prefer the design and construction of stainless steel kitchen because of their environmental friendliness. In addition to creating space for luxury kitchen, modern stainless steel is sure of safety by excluding toxic substances, easy cleaning and cleaning. A kitchen is designed with stainless steel and aesthetic, both save time cleaning, cleaning, and increase the life of the product. Stainless steel or stainless steel cabinets have longevity and durability. There will be no worries about termites, mold or items such as wooden cabinets. After years of use, with its shiny, stainless steel products are always almost new compared to the original.
In addition, at present, the office buildings
Also preferred stainless steel panels to create a strong, luxurious and modern. The cost issue is not high either. With outstanding surface features, in addition to the design for the familiar interior, stainless steel is also used to design decorative items in the home as accessories in the interior such as lamps, trash bin, shelf …
Why stainless steel preferred and high of stainless steel in the interior decoration?
Stainless steel has high antioxidant properties
This helps the product to increase its longevity and durability. Stainless steel applications in the production of users are not concerned about the rust, or damage, in accordance with the harsh conditions. Cleaning is also simpler and faster than with other materials.
The color of shiny stainless steel material, hard to fade to ensure aesthetic after long time use.
Stainless steel is a standard material that is safe for human health because it contains no harmful chemicals as well as has been removed harmful impurities before the finished product. Stainless steel is easy to recycle and environmentally friendly. So do not destroy the inherent nature of the material, but also recycle it for use.
Stainless steel is a high strength, heat resistant suitable for many purposes from the wall to the building to smaller objects such as tables and chairs, kitchen utensils. Stainless steel is tough, tough, well shaped thanks to chromium, nickel, etc., which help to create diversified products to meet the requirements of interior decoration thanks to easy combination of mechanical processing such as cutting stamping, cutting, laser cutting, laminating, bending … Products such as pads, sheets are processed laser cutting delicate patterns contribute to both bright and artistic work in accordance with the style of the people. master.
The price of stainless steel is different with different grades of stainless steel such as stainless steel 201, 303, 316 … in accordance with the ability